All families must complete the online Federal Eligibility Application (FEA) for free and reduced lunch even if you don't think you qualify. It is easy and convenient to complete online at home, work, or at the school.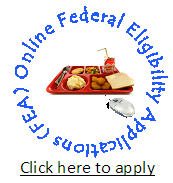 The system will ask for your Student ID which you can use from last year (look on a report card) or you can by pass the information if you do not have it.
If you have questions about this program, click here to go to the FAQ.
Meals
We follow the monthly menus provided by Atlanta Public Schools. Fresh fruit and salad bars options are available. We do not send home paper menus. Copies are available in the cafeteria, as well as online in the sidebar of this page. Our current vendor remains Sodexo-Jackmont.
Costs
Breakfast
Free for ALL students and staff & served in the classrooms
Lunch
Full Price: $2.25
Reduced price: $.40
Adult price: $4.00
Milk or Juice: $.80
Payments Accepted
Cash, Check or Money Order (payable to APS)
Send cash, check, or money order made payable to Wesley International Academy and to the attention of Robyn McCoy. Envelopes will be made available in the office and can be placed in the lunch drop box. Ms. McCoy will return a receipt to you within 48 hours.
Pay Conveniently Online
We use My School Bucks to maintain your child's balance, set up automatic email reminders when your child's balance is low, and send e-receipts directly to your registered email account. You will need to create an account for each child who attends WIA.
Questions? Please contact Robyn McCoy, (678) 904-9137, ext. 8271.
Free and Reduced Lunch Program
All parents will need to complete 2016-17 Free and Reduced Eligibility forms online regardless of whether you are applying for the program or not. These applications are available online (preferable method), at Wesley Welcome Back Day, and in the WIA office.
WIA participates in the federal free and reduced price meal program. Students from households with incomes at or below certain eligibility levels can qualify for free or reduced-price meals. Also, students from households receiving food stamps or Temporary Assistance for Needy Families (TANF) benefits are eligible for free meals.
If your child was deemed eligible for the Free/Reduced program last school year, your official eligibility ends on September 15, 2016. You must have completed and turned in your new form prior to September 1, 2016 to determine eligibility and to gain recertification for the program. If you did not complete a document, please come to the front office.
Free and reduced-price applications are distributed during orientation, and all families are asked complete them, regardless of income level, as the schools may receive additional funding as a result. Application information is confidential and will be used to determine eligibility.
Lunches from Home
When packing a lunch, we recommend healthy foods and beverages, such as water, milk, or 100% fruit juices. Soda is not encouraged. Please provide lunches that do not need to be heated as this poses a liability for the school. Students may purchase milk or juice at school when bringing a lunch from home.
Parents are welcome to have lunch with their child(ren).